We have been performing successful mold remediation in Residential properties all over Pennsylvania, Delaware and New Jersey for the past 21 years. Our residential projects range from small apartments and condominiums up to a 21,000 square foot mega mansion and everything in between.
Our goal for every job is to ensure that by the time we are finished in your home, you can breathe comfortably knowing your home and family is protected. Our experiences have prepared us to handle any mold issue that is presented to us with ease.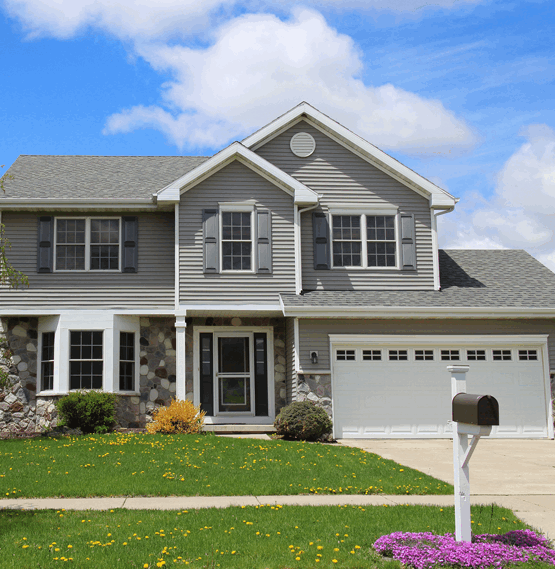 Getting Your
Home Healthy
The 1st step in getting your home healthy is always assessment. Don't guess. It is critical to trust a professional who truly knows what they're doing from initial inspection through the final remediation process.
While researching your mold issue, you may come across different websites or various videos that show you how to use various products/bleach to rid the mold yourself. Some of those resources might also reference "Black Mold" which is more professionally known as Stachybotrys. When it comes to mold of any kind, cutting corners is ill advised and doing it yourself is rarely recommended. If proper protocols are not followed, you will most likely just clear surface mold which is commonly just the tip of the iceberg. To avoid months or even years of issues, call INX Indoor Air Quality today so we can help you remove the entire issue from source to surface.
If you are reaching out to us, it is most likely that you have mold in one of the three Most Common Places for Mold Growth:
If this is the case, we can help by following our Seven C's to effective Mold Remediation – Containment, Contents, Cutting, Cleaning, Coatings, Clearance & Closing!

Containment Construction
The purpose of the containment is to seal off the remediation area under negative pressure to minimize the potential for cross contamination to clean areas during the remediation process. A HEPA (High efficiency Particulate Air) Air Scrubber is placed inside containment and exhausts out of the containment to create a negative pressure differential in the containment.
Containment Construction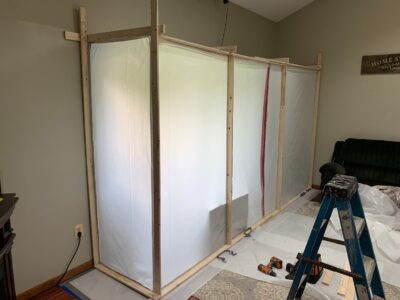 Contents Cleaning and Protection
If contents are not impacted, it can be simply removed from the mold remediation area or relocated away from the work area and sealed with heavy plastic during the remediation process. If contents are impacted (has mold growth or may have mold spore deposits), it should be cleaned or sealed in plastic for future cleaning.
Contents Cleaning or Protection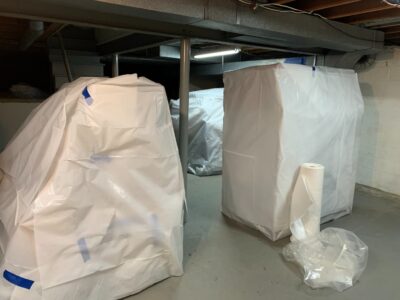 Cutting & Demolition
During this phase of remediation, all contaminated building materials are removed and discarded. Some building materials which are not directly impacted may need to be removed to access hidden areas or voids for cleaning and/or remediation. After cutting, removal of all contaminated wall coverings, drywall, insulation and finish molding, carpeting, padding etc. and any other building materials is required. 
Cutting & Demolition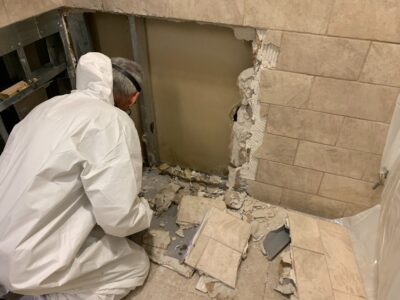 Cleaning
All remaining surfaces are first HEPA vacuumed to remove bulk mold growth and mold spore deposits. All surfaces are then disinfected and wet wiped removing the residual mold, then HEPA vacuumed a second time. Any deep-rooted mold in wood structure may need to be abraded by wire brushing, sanding, blasting, or other means, then HEPA vacuumed and disinfected. 
Cleaning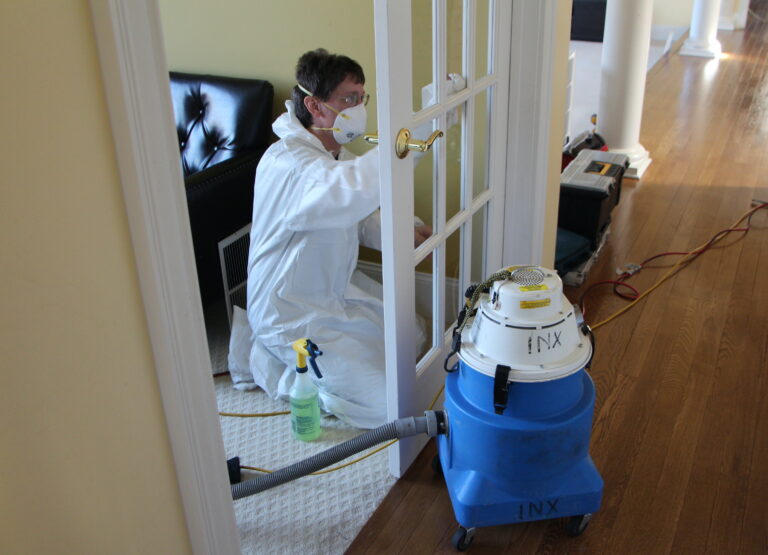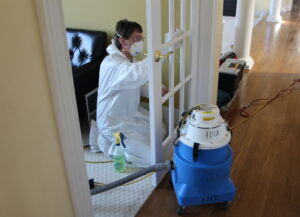 Coating
Utilize an airless paint sprayer to coat remediated structural members with an anti-microbial or mold-proof coating. This coating is typically white or clear. Its purpose is to seal up any structural joints or crevices that cannot be thoroughly accessed for cleaning.
Coating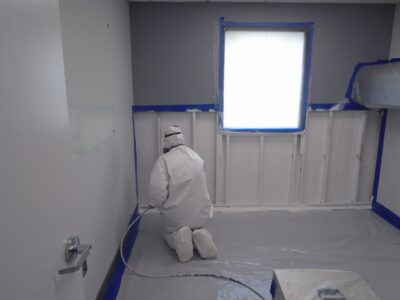 Clearance Testing
After cleaning of remediated surfaces is complete, all surfaces in the containment are HEPA vacuumed, wet wiped with disinfectant and HEPA vacuumed a final time to prepare area for inspection or Clearance testing.
Clearance Testing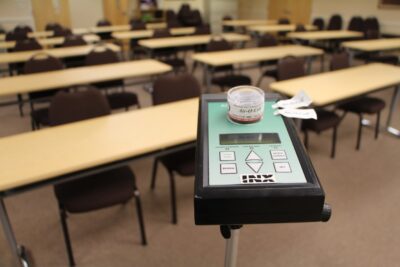 Closing Report
The final step is the Closing Report and Documentation. Upon completion of every project, a closing report including before and after pictures, scope of work, test results, Product Data sheets, digital photos, and any future recommendations is provided.
Call INX Indoor Air Quality today to speak with a Mold Professional
about how we can help you Breathe Easy!