It can be a nerve-wracking experience when you realize that your West Chester home or business has a mold problem. However, with INX Indoor Air Quality on your side, it does not have to be.
INX Indoor Air Quality is West Chester's leading mold remediation and air quality company, offering comprehensive mold services that keep West Chester homes and businesses safe and mold-free.  
With over 25 years of industry experience, INX Indoor Air Qualities team of highly trained professional mold remediation experts are well equipped to identify the symptoms of mold growth quickly and come up with and execute an effective plan that eliminates your mold issues in an efficient and timely manner. 
With unmatched expertise, the most competitive prices in the region, and a commitment to providing a superior customer service experience, there is no better choice than INX Indoor Air Quality. So, if you need a company you can trust to handle your West Chester mold problem, look no further than INX Indoor Air Quality.
Professional Mold Remediation West Chester Residents Can Trust
Whether you have a mold problem in your West Chester home or commercial buildings, INX Indoor Air Quality's full range of high-quality mold remediation services ensures that you can get the help you need exactly when you need it. From comprehensive mold inspections to professional mold removal services, duct cleaning, and more, INX has Chester County residents covered. Here are some of the most popular services that we offer in West Chester, PA, and the surrounding area.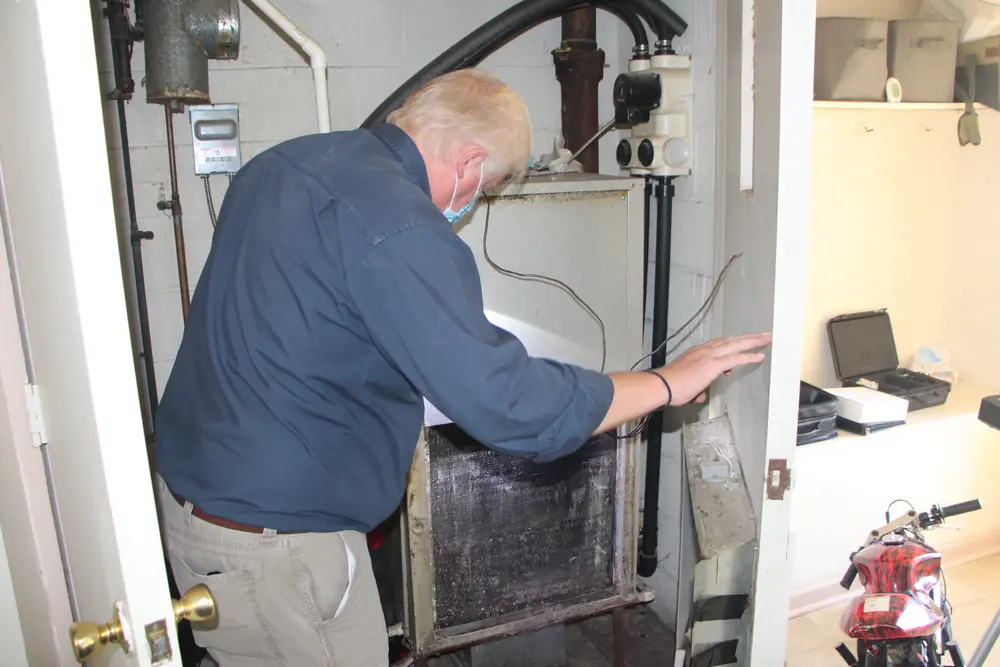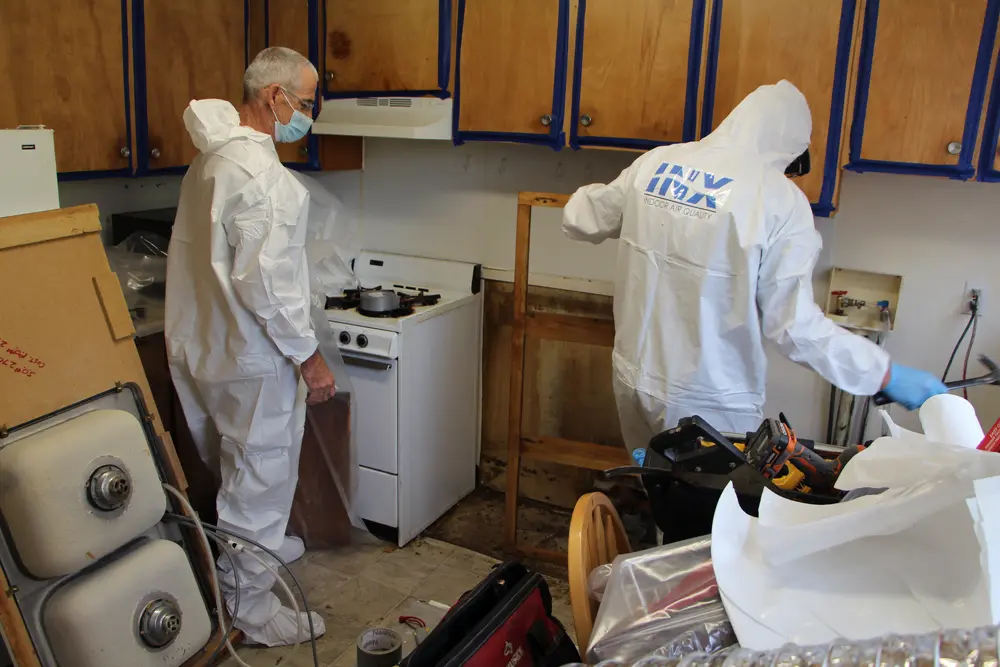 Mold Inspection Services and Mold Testing West Chester
If you suspect mold growth in your home or commercial space, the first thing that needs to be done is a full mold inspection that confirms whether you have a mold problem or not. This usually includes multiple mold testing methods, including air samples and swab testing, that can detect even the smallest amount of mold spores in the air or on surfaces. However, that is not the only thing we will do during your inspection.
Our highly trained certified mold inspectors know exactly what areas of a building are most prone to mold development and can notice the early signs of growth that the untrained eye simply has no chance of detecting. 
Even if we do not detect anything, we will still happily point out areas with abnormally high humidity or water intrusion that could potentially cause a mold issue in the future. We can even recommend preventive measures like basement waterproofing and the use of moisture meters to help you avoid any future problems. 
No matter if your mold problems are in the earliest stages of development or if they are already obvious and out of hand, our visual inspection and advanced mold testing methods ensure that we catch your West Chester mold problems every time.
Mold Removal West Chester
Once the mold inspection and testing stage is completed, it is time to begin the mold removal process. Our certified professionals will develop a custom-tailored plan that will efficiently and effectively address your mold problems and then walk you through the entire process so that you know exactly what to expect. 
The first step of the mold removal process is generally containment, as stopping the mold from spreading further throughout the indoor space is essential to the success of the mold removal project. 
After we have finished building all of our containment structures, we will then get to work on removing the mold and cleaning the affected building materials with high-tech equipment like HEPA vacuums. We will also use air scrubbers to take any remaining mold spores out of the air.
Then, once everything has been properly removed, replaced, and cleaned, we will provide you with a comprehensive report of everything that we did and how you can prevent mold growth in the affected area in the future.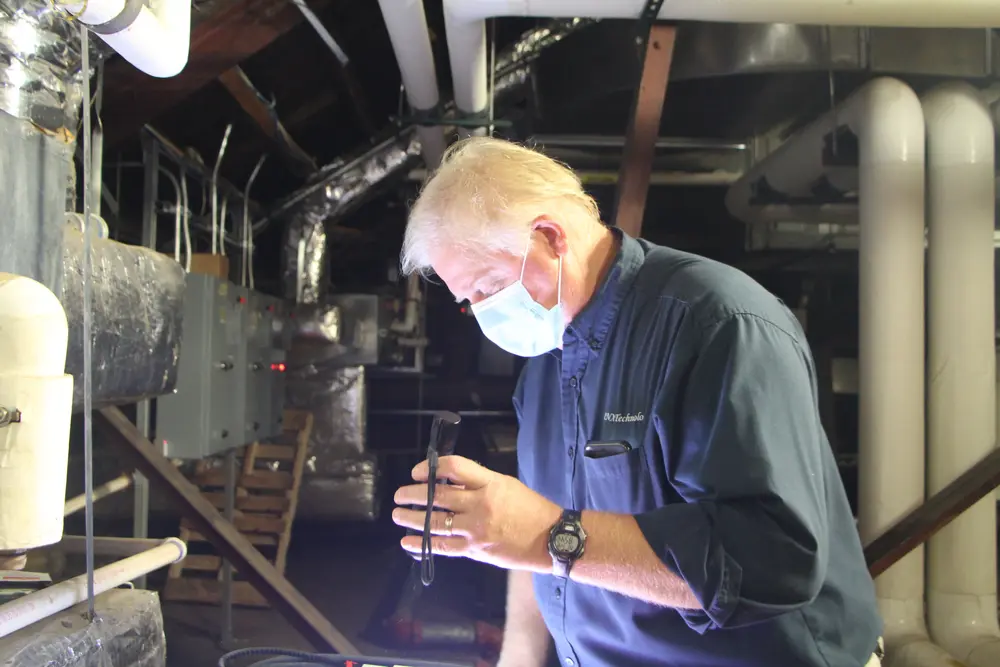 For the most part, air ducts are not normally the source of mold. However, if there has been mold growth somewhere else in your home or commercial space, then it is almost a guarantee that some of it will end up in the duct system. This can be a problem because, even if you remove the initial source of your mold problems, it could return as spores that settle in your air ducts continue to circulate through the air and get redistributed throughout the indoor space.
Our professional duct cleaners are highly experienced and have access to specialized equipment that allows them to meticulously remove all sorts of air pollutants from your air ducts, including mold, dust, allergens, and anything else that has happened to settle there. No matter what, if you choose our duct cleaning services, you can expect a drastic improvement in the air quality of your indoor space.
Commercial Dryer Exhaust Cleaning
Dryer exhaust systems are designed to remove all the heat and moisture that builds up during the drying process. This means that, by nature, they are particularly prone to the growth of mold because they offer everything that mold needs to thrive. This can cause a lot of costly problems, including clogging, system failure, and even fires.
Our commercial dryer exhaust cleaning services help business owners ensure that this never happens by providing routine cleaning and advice that keeps these systems working properly and performing at their peak. 
Contact INX Indoor Air Quality Today
Are you located in the West Chester area and need a trusted and reliable mold remediation company to help with your mold infestation troubles? Give us a call. We are always here and happy to discuss how we can help. We will even offer you a free estimate and consultation so that you know exactly what your options are and how much they will cost beforehand.
No matter what, we are committed to providing complete customer satisfaction and will keep you well-informed throughout the entire mold remediation process. So, if you have a mold problem, do not wait until it is too late. Call INX Indoor Air Quality and get your mold remediation project started today!